I awoke up in the night and fund Missy out of bed. I looked for her and she was lying on the fuzzy bath mat I laid in the hall. Bob gave me two to help rotate with the two old ones I use to set under Missy's litter box. I put the fuzzy one in the hall and she likes to lay on it. She spent part of the night on the floor there on that fuzzy mat.
I will go to breakfast with Bob this morning. He has spent most of his spare time over to Joanne's. That's great! I am happy he has found someone to spend his spare time with. Joanne doesn't get up until 7:00 and we go to breakfast at 7:00 on Saturdays.
Afterward, if Karan is still well, we will go to Bartlesville to shop, eat out and see the movie. Marilyn was going to go too but her kids are coming so she will take a rain check.
I found out why my phone was so quiet yesterday. Something had put my phone on "mute". This phone is a mystery to me. It does several things on it's own like calling someone. Bob had tried to call me twice and Marilyn had too.
More later...
Karan and Marilyn and I went to the movie, "The Darkest Hour", in Bartlesville.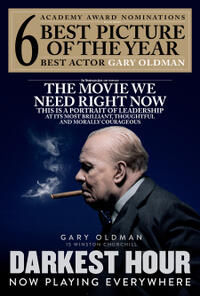 First we went to eat lunch at a new restaurant Marilyn knew about. Then we went to Christopher and Banks for their 40 - 50% off sale. I bought two new tops and Karan bought quite a bit. Even Marilyn bought several things..
Then we went to see the new Hobby Lobby. Neither of them had been there. Finally we saw the movie, The Darkest Hour. .We really enjoyed it. In the way home we stopped at that little shop in Tyro that sells Amish food....jelly, pies, all kinds of relishes etc.
I dropped both of the girls off at their homes and came home to feed a hungry Missy her treats. She has spent the day alone. I took my bath at 6:00 and sat down to read my e-mail, finish this blog and read the newspaper. I will go to bed at 9:00. It has been a good day!